OUR WORKS
Covey Rise Magazine
2013 marked the Tenth Anniversary of Covey Rise. To honor this milestone, the Covey Rise team transformed the publication from a classic, hardworking newspaper into a lifestyle magazine with regional, national, and international coverage. In a move counter-current with contemporary digital publishing trends, the new Covey Rise magazine is perfectly bound with a heavy, high-quality interior paper stock. The content follows a strict 75% content to 25% advertising model. The magazine's first issue was unveiled in November 2012.
Covey Rise magazine celebrates the lifestyle and traditions of everything to do with the upland sporting life. The content features contributions from award-winning writers, industry-leading photographers and outstanding artists.
Inside the magazine readers will find stories about…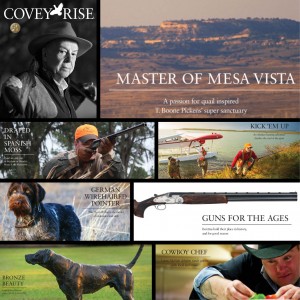 -a variety of game birds including pheasant, Ruffed grouse and woodcock, sharptail grouse and the elusive ptarmigan, among others.
-journeys to first-class wing shooting destinations, stateside and abroad.
-hunting over a variety of bird dogs while testing gear and guns from industry-best manufacturers.
-passionate conservationists, celebrities, and politicians who support our rich, wing shooting traditions.
-recipes for five-star quality game bird meals paired with reviews of award-winning wines and select reserve bourbons.
-the lives of visionaries who have contributed to the timeless traditions of the upland sporting life.
TKG was retained in January of 2013 as the marketing and public relations agency of record to help shape the new Covey Rise brand and to grow awareness of the magazine to a national and international audience.
With vision, industry connectivity, and innovative sales/marketing programs that focus on revenue generation, TKG has helped Covey Rise magazine double their subscriptions in a very short time plus triple their social network following with an industry-leading audience engagement record on Facebook (check them out on Facebook, Twitter and Linked In).
And the best is yet to come.
Deliverables
Market Strategy
Public Relations
Brand Development
Investor Strategy
Web Content Management
Social Media Marketing
EMail Marketing
Online Store
Direct Mail
---
What Our Clients Say
We are excited about the opportunity of working with The Keer Group. Tom and Angela bring much needed marketing experience to Covey Rise which allows us to focus on the task of creating the finest upland lifestyle publication on the market. TKG combines a big picture vision with precise execution. They are more than our marketing arm, they are our partners. There is no doubt that Covey Rise is where it is today because of The Keer Group.

Kelly Waldrop, Covey Rise Magazine