OUR WORKS
Content Marketing for USA Today Hunt&Fish
How The Keer Group helped USA Today's Hunt&Fish Magazine develop the kind of content that not only resonates with a new audience but inspires them to get outdoors with their family & friends.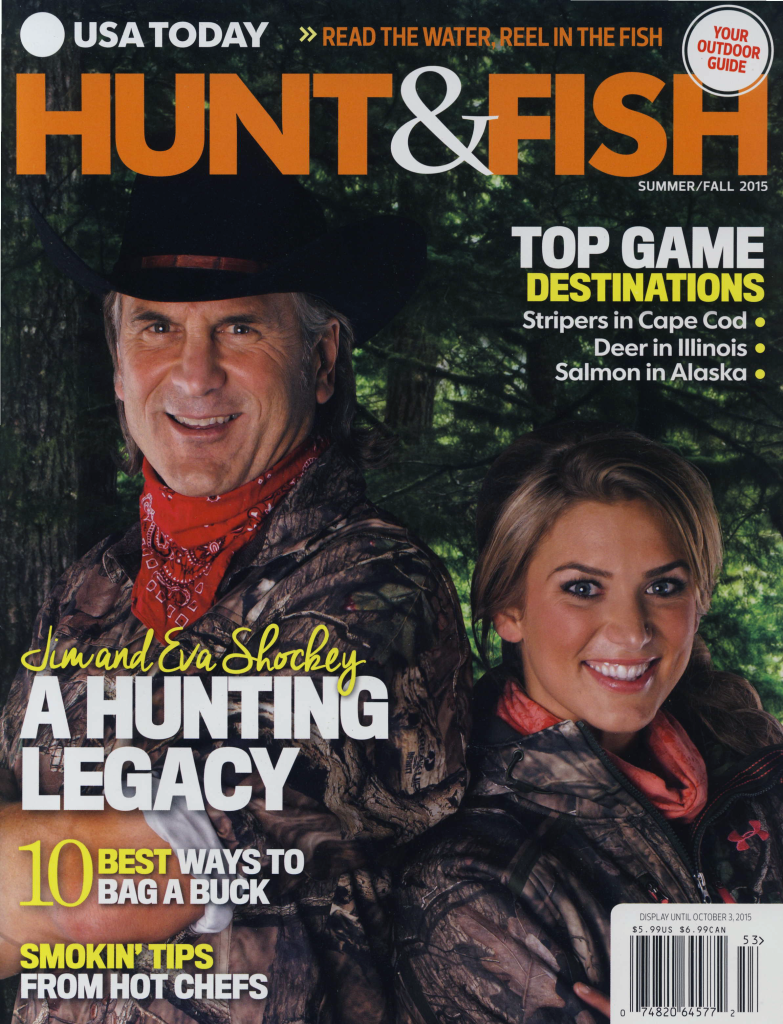 USA Today Hunt&Fish is a 4.5 million circulation, newsstand-driven, enthusiast publication. The magazine, published once a year, historically targeted its content towards big game hunters (specifically deer hunters) and freshwater anglers (primarily bass fishermen). Our task was to create content that would resonate with a larger sphere of sportsmen and women. TKG's President, Tom Keer, stepped in for the second year in a row as Guest Editor for the 2015 edition.
The first step of content marketing for USA Today Hunt&Fish was to outline a plan to increase readership by adding sporting topics of interest to a greater number of enthusiasts. Conservation, tradition and legacy tend to ring the bell for us all, and the content plan was set forth with a foundation based on these universal themes. The next step was to breakdown the hunt/fish categories by discipline and user group archtypes. In addition to stories on competitive bass fishing and deer tracking, we added stories that focused on wing shooting, waterfowling, fly fishing, turkey hunting, and sporting dogs. With women currently representing the fastest-growing user group (85% growth over the last decade to about 3.3 million according to the National Sporting Goods Association), content was created specifically for their interests and techniques. Sprinkle in some wild game cooking recipes to appeal to everyone's tastebuds and add a few unique topics of interest such as cane rod building and crossbow hunting and you end up with a really cool content collection that is great for novices through experienced sportsmen and women alike.
A special interest publication needs a standout cover so we selected famed father/daughter duo Jim and Eva Shockey. The Shockey's represent the theme of legacy as well as women emerging as a new user group.
The pièce de résistance came by matching assignments with writers. As with all content, people make the difference and each writer came through in spades. The by-lines represent a veritable who's who of industry-best communicators and their unique voices truly made the magazine sing. Check out the names for yourself and you'll recognize them as a dream-team of editors and contributors par excellence.
The result? A complete transformation that contributed to this special interest publication's outstanding success at newsstands across the country. With the power of vision, teamwork and outstanding content–great things can be accomplished. Social media is singing, sell through is high, and most importantly folks are getting inspired to get outdoors.
We are in a Golden Age of Communication
Think back to August 6, 1991 when Tim Berners-Lee published the first website. Berners-Lee was the creator of the World Wide Web and we wonder if he knew then how life-changing the Internet would be.
CONSIDER THIS:

In 1994 (the year Yahoo was born) there were 2,738 registered websites with 25 million users.
In 2004, (the year Facebook was born) there were 51,611,646 registered websites with 910 million users.
Today, there are around 1 billion registered websites with 3 billion users.
THEN PONDER THIS:

In 2004, 5% of online users used social media. That's about 45 million people.
In 2014, 74% of online users used social media. That's about 2.2 billion people.
From copy for your website and email marketing efforts to routine blog posts, social media updates, infographics, white papers, e-books, print collateral, press releases and more, that's a lot of content to generate. Add to it the emphatic need to create content that is useful, relevant, and meaningful to your target audience and don't forget about those keywords and search phrases...it's a big task that shouldn't be under-valued.
Granted, no one knows the story and vision behind a brand quite like the original founder and his team, but when paired with a simpatico marketing partner the stories and purpose driving the brand can reach the desired target with greater speed and impact.
At The Keer Group, content for the active outdoors is our specialty. If you're ready to embrace a marketing partner to help you achieve your business goals, we'd like an opportunity to learn about your brand and discuss ways we can help.
---