OUR WORKS
Blackfly Lodge Public Relations Campaign
Blackfly Lodge is the anchor venue for Schooner Bay, an innovative and progressive mixed-use residential community. Home sites surround a harbor which historically has been the center of island business. Surrounding the cottage community is a Series 2 and 3 level of retail stores, employee housing, a church and a school.  Add an environmentally savvy geothermal cooling system which air conditions naturally and an organic garden that supplies the community with fresh produce and you have a unique place to call home.
To attract tourists and second-home owners to live and vacation on Abaco, an anchor operation was needed. A commercial fishing lodge was just the ticket, and Vaughn and Jean Cochran, Dave Byler, and Clint Kemp were the team to make it happen. Many anglers were already well familiar with the Cochrans, a fascinating couple who have mixed art, travel, guiding, retail, and restaurants into a successful enterprise. But folks were not so aware of their new venue on Abaco, and that is where The Keer Group stepped in to help.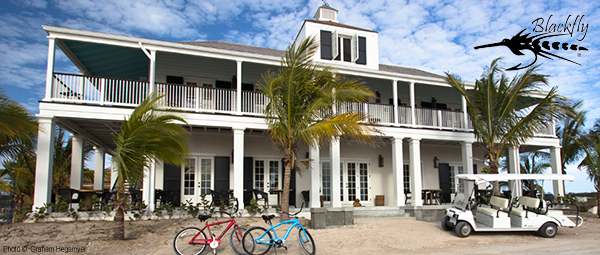 At the heart of the Blackfly Lodge Public Relations Campaign was securing feature editorial in a refined list of national and international publications. The unveiling of Blackfly Lodge to its target audience was carefully planned out with staggered editorial features spanning a two-year period. The venue was featured in Garden and Gun, Fly Fisherman magazine, Fly Fisherman magazine's Gear Guide, Sporting Classics, Fly Fishing in Saltwaters, Saltwater Sportsman, USA Today Hunt & Fish, Outside Magazine, The Virginia Sportsman, Eastern Fly Fishing, and GAFF Magazine.
In 2013, Garden and Gun named Blackfly Lodge the Best New Bonefish Lodge. In 2014, Fly Fisherman magazine named Blackfly Lodge the Best Bonefish Destination of the year.
The result? Blackfly Lodge is on the map and if you're interested in going we recommend advanced planning as they are booked well into the future!
Client Testimonial
Tom and Angela Keer have the horsepower and industry connections to execute our marketing plan and they understand our thinking regarding our valued customer relationships.

Vaughn Cochran, Blackfly Lodge
---
Don't let your Public Relations FAM Trip turn into an Animal House
Years ago, a media FAM trip was often synonymous with a boondoggle or a junket. I recall one poorly orchestrated event that quickly deteriorated into something more closely resembling "that" movie. A good time was had by some, many took offense, and the rest were dumbfounded by the whole experience. It was no surprise that participants, me included, chose not to write about the event. The venue and the manufacturers who orchestrated the event believed that if the media had a great time they'd write glowing reviews; in the end, too much focus was on fun instead of work.
Large-scale media FAM trips have largely gone away. Some of them died a quick death because of the costs associated with the frivolity and lackluster results while others disappeared due to a budget-tightening recession.
One FAM trip disbeliever recently told me that the media could learn everything they needed to know from their website. No comp trips were offered, no products were field tested, and no expenses were incurred. In the same breath, the disbeliever complained about declining sales.