OUR blog entries
ICAST/IFTD 2014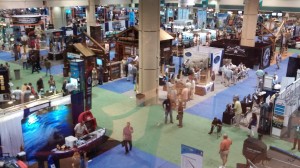 Last year, IFTD decided to forgo an independent trade show in favor of joining the significantly larger ICAST show that is touted as being the world's largest fishing show.  Discussions prior to that union were across the board, with many fly anglers leaning towards joining Outdoor Retailer.  What seems to differentiate fly rodders from conventional anglers is the fly fisherman is particularly focus on method which, according to our surveys, ranks at the top of the list.  I had covered that point in my freelance piece I am a Fisherman in the ICAST magazine, and according to readers the piece was well received (thank you all for taking the time to write).
For our seminar chose to address the topic of Fly Fishing and Conventional Fishing: Why Can't We All Get Along?  100% of surveyed anglers agree that there is a gap but aren't really sure what to do about it.  I enlisted the help of industry experts from a wide variety of channels so as to offer our audience a 360-degree view of the subject, and they were:
Ken Cook, Managing Editor, Fishing Tackle Retailer, who spoke about the profile of a conventional angler and what is important to him/her.
Ross Purnell, Editor, Fly Fisherman magazine, who spoke about the profile of a fly rodder and what is important to him/her.
Rich Hohne, Digital Marketing Manager and Public Relations for Simms who spoke about benefits a manufacturer offers consumers by selling to both audiences.
Peter Jenkins, President/CEO The Saltwater Edge and Edge Angling, brick and mortar and ecommerce mixed-stock dealer who discussed the overlap between fly and conventional anglers at the retail level.
I represented topics of critical importance to both groups such as angler participation, legacy, open-space, clean waters/environment, GNP contributions, et al.  They're far more relevant than hashing out our differences in methods, and we proved that fly and conventional anglers have more in common than less.
We're grateful that The Outdoor Channel identified our seminar as an important one and gave us some ink.  Check it out here. We're psyched for the coverage and are glad a group as large and prestigious as TOC wants to help!