OUR blog entries
Content Marketing for USA Today Hunt&Fish Magazine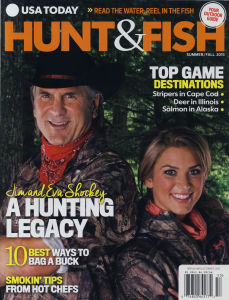 USA Today Hunt&Fish magazine is a special interest publication produced annually with a 4.5 million circulation.  Its timing is Summer/Fall, it is perfect bound, and the page count is between 120-130. Editorial-to-advertising ratios run about 55%/45% and the magazine appeals to an outdoor enthusiast audience.
Historically, the content primarily focused on whitetail deer hunting and largemouth bass fishing. Our task was to create content that would resonate with a larger sphere of sportsmen and women.
Content marketing has become sort of a buzz word these days, but in the end it simply boils down to people. Tom Keer, Guest Editor for the issue, selected a group of contributors that amounted to a dream team of sorts, and they included Nancy Anisfield, Peter Cary, Kirk Deeter, Joe Healy, Lars Jacob, Russ Lumpkin, Brian McClintock, Kris Millgate, Phil Monahan, Jed Portman, Ben Romans, Jared Sullivan, Shane Townsend and Stephanie Vatalaro. Without these marquee contributors and their unique stories, we could not have produced content of this quality and versatility.
The content strategy began by identifying universal themes relevant to all who hunt and fish. We focused on legacy, conservation, women in the outdoors, tradition, and new/newsworthy. As form follows function, story ideas rolled out of these foundational themes. For instance, the cover story, written by Jared Sullivan, features Jim and Eva Shockey. This father/daughter duo epitomizes legacy, conservation, women in the outdoors, and tradition. Kris Millgate's piece further explores the theme of women in the outdoors across three different user groups of fly fishing (Cathy Beck), wing shooting (Nancy Anisfield) and big game hunting (Kim Callahan). Stephanie Vatalaro's Waltzing with Sailfish carries forth both legacy and women in the outdoors as it's a story about fishing with her dad and how she rose to the occasion to land a fish as large as her.
The bucket list theme, written by Russ Lumkin, showcases places that represent the pinnacle of the public sporting experience. And part of the reason that these areas are so exquisite is because of conservation initiatives. Tom Keer carried forth that theme in his story about differentiating conservation from preservation. With all of this hunting and fishing inspiration, you're bound to get hungry and Jed Portman's Now Your Smokin' provides a number of mouth-watering recipes to try.
For tradition, Joe Healy covered the Cortland Line Company. Founded in 1915, this year marks the company's centennial. Combine old and new and you'll get Shane Townsend's piece on hunting with a crossbow; a tool founded several centuries Before Christ that is rapidly gaining in popularity for hunting.  And you can't get more traditional than Peter Cary's building of a bamboo fly rod, not to mention the passing down of a hand-made work of art is another form of legacy.
For new and newsworthy, we asked renowned shooting instructor and gun fitter Lars Jacob for wing shooting techniques since everyone wants to shoot better. Nancy Anisfield explored man's best friend, for what sportsman/woman doesn't appreciate tips for selecting a dog suited to his/her hunting conditions.
Brian McLintock covered a relevant topic which is how to move from recreational to professional bass fishing, Phil Monahan expertly tackled how to read the water, and Kirk Deeter looked at small watercraft that can put anglers where the fish are. Shane Townsend circled back with tips to not lose a deer, and Ben Romans focused on a variety of rifles, shotguns, and loads to make your hunting more enjoyable.
Exposing a dominant whitetail/largemouth bass audience to new sporting opportunities made sense for growth in readership opportunities. In the end, readers received enough information in their areas of interest, and they were exposed to much, much more.  Themes, stories, and in the end people contributed to delivering an excellent issue of USA Today Hunt&Fish.