OUR blog entries
A New Logo: Dave Brown Outfitters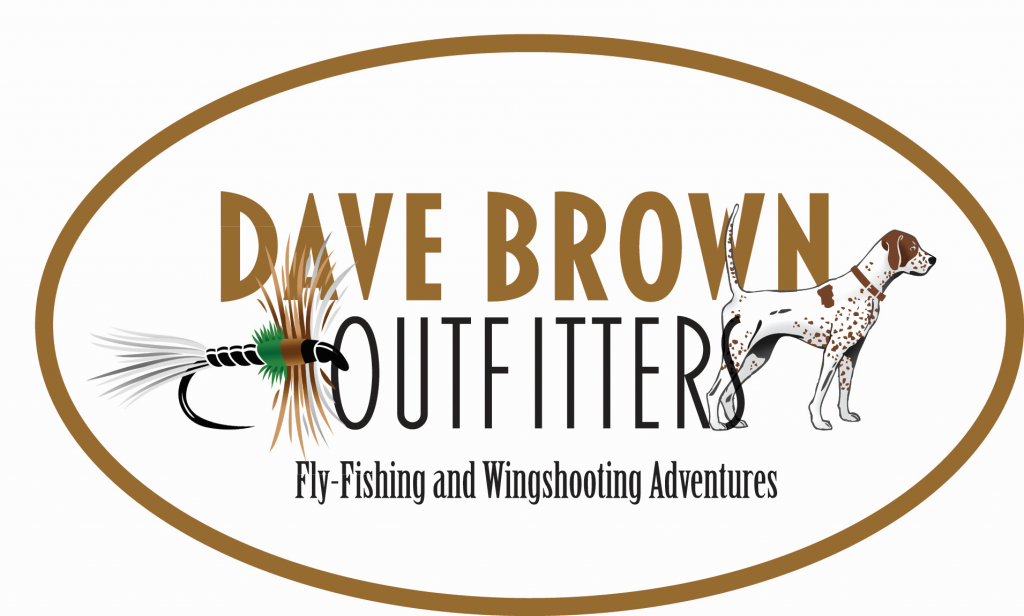 Meet Dave Brown.  Dave Brown started fly fishing and bird hunting when he was 13 years old.  His field and stream time was interrupted by eight years of military service.  For five years, Dave served as a paratrooper in the elite Canadian Airborne Regiment and he served with the Princess Patricia's Canadian Light Infantry.  After his eight-year hitch, Dave left the military and embarked on a fly fishing and wingshooting career that now includes guiding for trout in western Canada and the Rocky Mountains and bird hunting in western Canada and Arizona.
Dave Brown is intense and focused.  Add passionate when it comes to fishing and hunting, add enthusiastic because he wants everyone to have a fantastic time.  Dave Brown cares, and that's why he has such a diverse client base.  Some of his clients are rank beginners, others are hard-core enthusiasts, and still others are celebrity notables that include Hollywood actors, supermodels, and professional athletes.  While his client list reads like a veritable Who's Who, what matters most to Dave is that his clients share in a memorable experience.  He creates trips-of-a-lifetime.
If you're on social media you'll see Dave Brown broadcasting from remote areas on Facebook, Youtube, Instagram among others.  While he's cutting edge, Dave is also a traditionalist.  He knows that things of value take time to create.  We met when he had a problem to solve, and that came from his logo.  Dave's business, you see, had expanded significantly.  As a result he had multiple logos representing the variety of his business units.  He needed to simplify down to one.
Meet The Keer Group.  Dave's four logos represented domestic and international fly fishing and wingshooting.  His brand proposition was simple, established and unchanging, so we moved to a number of different concepts from rod and gun to fish and bird to fly and pointer.  We all agreed on the fly/pointer position, and moved on to the rim.  We experimented with a variety of geometric designs from ovals, circles, squares, rectangles and triangles and settled on the oval for simplicity and inclusion.  We then tried a sequence of layout/design with the fly/pointer combination, and while they looked good they just didn't pop.  Stock images just didn't capture the wild, traditional, and insightful part of Dave Brown.
Stock images are fine in some instances, you know, but for Dave Brown Outfitters, we needed something to pop.  Our solution lay in a custom design and application.  We began with a thorough review of Dave's extensive image library.  Inspiration struck when we found the perfect dog: Johnny Ringo.  Johnny Ringo conveyed the right feeling and his was one of intensity, style, and class.  These characteristics personify Dave Brown Outfitters as well, so we hand illustrated and colored the pointer you see in the ring.  Good things take time.
Dave chose the fly, one of his favorites, and it was an H&L Variant.  To match Johnny Ringo we drew that fly from hand as well.  Hand-drawn images can be colorfully illustrated, so we did that as well.  And we added a contemporary twist which is a vibrant and sparse coloration coupled with a clean design.  Just like Dave Brown.
To finalize, we returned to experiment with layout and design and shifted the placement of the images.  Once positioned we tweaked font and coloration until it matched and arrived at the correct hue of brown.  Symbolically it resembles the land where Dave hunts and fishes and corresponds with his last name.
It was a true pleasure working with a client who is insightful and patient and understands that great creative work doesn't just come from assembling a series of canned and disposable components.  Great creative comes from teamwork and proper communication, the kind that existed between our two teams.  Check out Dave Brown Outfitters at www.davebrownoutfitters.com and visit him when you get a chance.  You won't be disappointed.